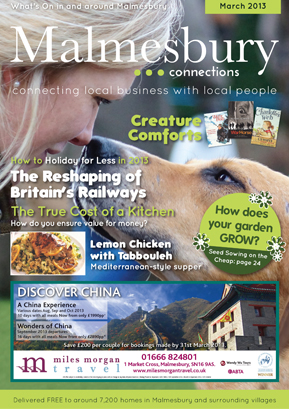 Malmesbury Connections is a well established local magazine connecting local people with local businesses. A truly independent business, we began in 2008 bringing the community together through magazine features, groups, events and advertising.
Malmesbury Connections receives fantastic feedback from both residents and advertisers, with many readers looking forward to the next recipe, crossword or interesting article. Our  audience also rely on our magazine as their directory of local services.
Advertise your business
Advertising with Malmesbury Connections is efficient and low cost enabling you to reach over 11500 homes and potentially bringing you many new customers. Many businesses have featured in the magazine since the first issue, because it consistently generates local custom for them. Find out more…
Promote your local event, group or news story
If you are a resident in or near Malmesbury and have any matters of local interest or are running a club or society please contact us.